SPAGHETTI WITH CLAMS, BOTTARGA AND COLORS OF ALICI
There is no summer without a nice plate of spaghetti with clams!
It 's also true that a nice first course of fish is excellent in all seasons, but when I want to bring the summer to the table, I always think of a nice first course full of clams or lots of seasonal vegetables!
Last Sunday it was definitely too hot to go to the beach, especially for me suffering from a life of low pressure! I was at home and while I was arranging the packages of the prizes received for "Rice food blogger", the contest that will see me in the final on July 14th at Atessa (CH), I find the delicious and precious anchovy dripping of "L'isola d'Oro" "!
The day before I bought some fresh clams from a fishmonger friend, I think: perfect …. clams and anchovy sauce!
I get off so fast in the garden that I am taking care of, pick up the redest tomatoes, the ripe and juicy ones and go back home to prepare my SPAGHETTI ALLE VONGOLE, BOTTARGA and COLORS OF ALICI!
SPAGHETTI WITH CLAMS, BOTTARGA AND COLORS OF ALICI
INGREDIENTS FOR 4 PEOPLE :
400 g of spaghetti (here I used the square spaghetti),
2 cloves of garlic,
extra virgin olive oil,
500 g of clams,
half a glass of white wine,
300 g of datterini tomatoes,
1 tablespoon of grated bottarga,
a bunch of parsley,
3 tablespoons of anchovy sauce from "L'Isola d'Oro". *
PREPARATION :
Put the clams in a large basin well covered with cold water and a generous handful of salt up to at least an hour, in order to drain them from the sand. After the necessary time, remove from the water and keep aside.
Heat a pan of water and as soon as it reaches the boil dip in the tomatoes for a few minutes, drain, remove the skin, cut into pieces and keep aside.
Heat a few tablespoons of oil in a saucepan with two crushed cloves of garlic, allow to heat and fry gently for a few minutes and add the clams, cover with a lid and wait a few minutes. Now add the chopped tomatoes, stir and blend with the white wine over a high flame.
Once the wine has evaporated, cover again and continue cooking on a gentle flame until all the clams are open. If you see that the cooking sauce "dries" too much, add half a glass of hot water.
A few minutes after the end of cooking, add the anchovy sauce, stir and turn off the heat.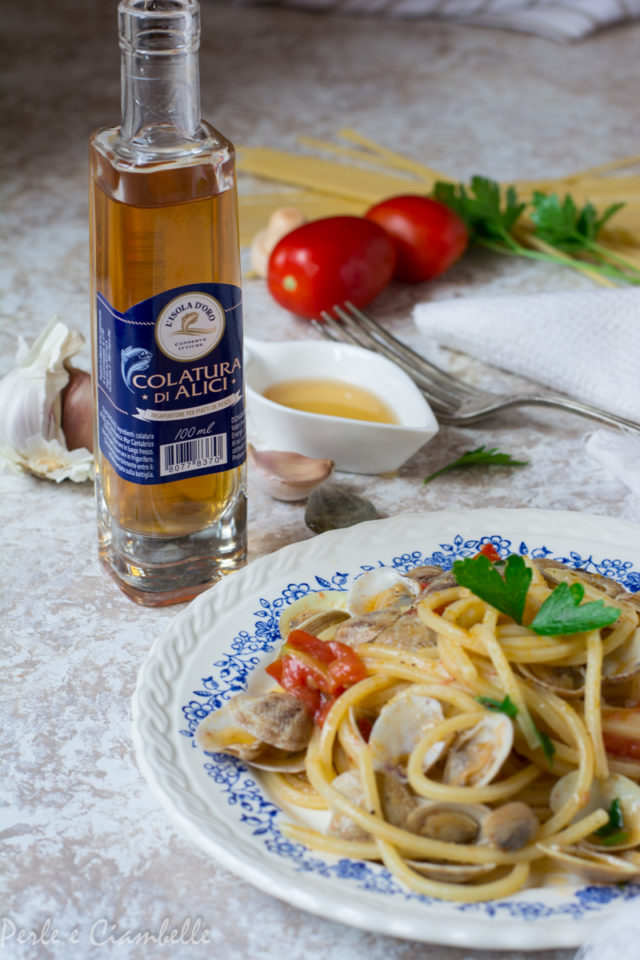 Cook the pasta in plenty of salted water and drain it al dente, pour it in the condiment to clams, stir in a few minutes with a couple of ladles of cooking water, then add the bottarga and chopped parsley and serve!
*sponsored

(Visited 9 times, 1 visits today)
Titolo
Nome Ricetta
SPAGHETTI WITH CLAMS, BOTTARGA AND COLORS OF ALICI
Pubblicato il
Tempo Preparazione
Tempo Cottura
Tempo Totale