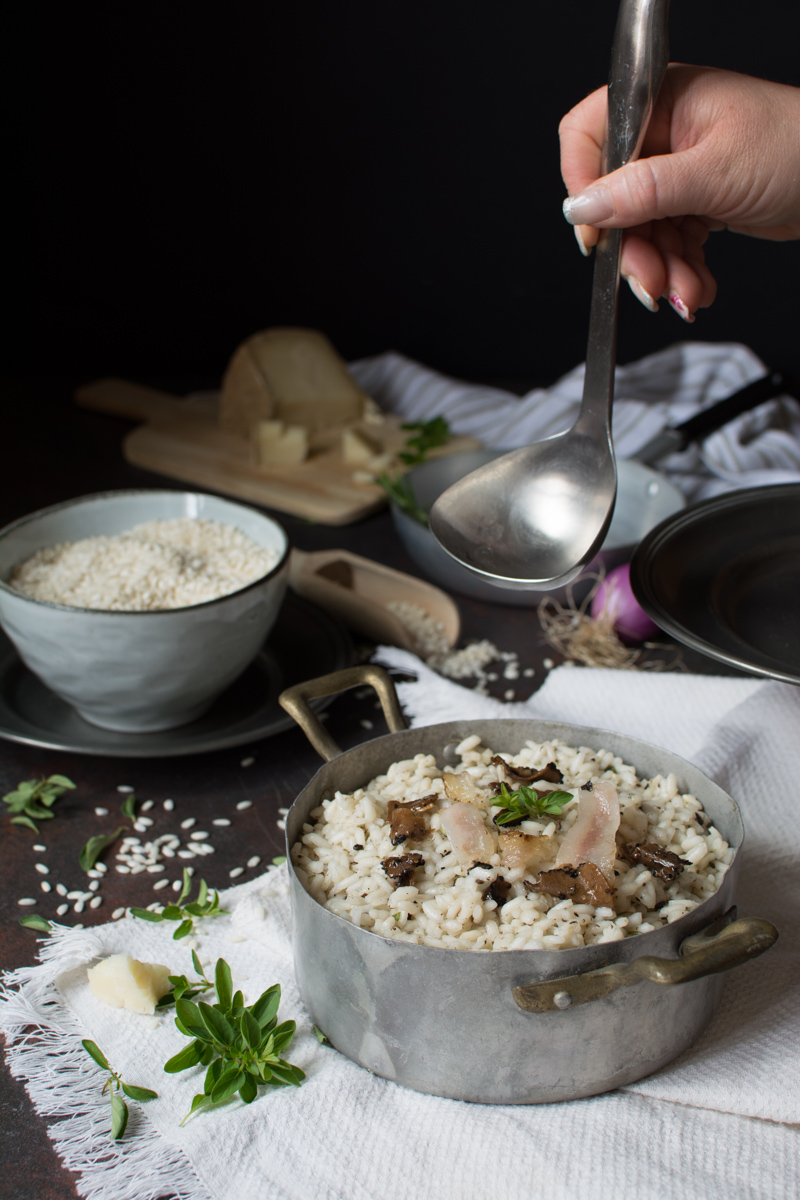 RISOTTO WITH TRUFFLE, PECORINO AND AROMATIC HERBS
I come back today with the desire to publish, to take new photos, to get back into the game, I go back with a RISOTTO WITH TRUFFLE, PECORINO AND AROMATIC HERBS!
Sometimes unpleasant things happen, events that we try to send down, to ignore, episodes that touch us and that we try to overcome. Maybe it happens that days, months go by and we think we are well, we believe we have overcome everything, that we have been strong this time too, but then … suddenly … you stop.
Thoughts come to the surface, the "traumas" that we believed to have buried are still here, present, and then it happens that even if your mind tries to pretend nothing, your body actually wants to make you understand that those traumas you have to face .
And all this is not visible in the eyes of others, but you drag yourself until you understand that you have to react.
Today's recipe is my new challenge: this RISOTTO with all the flavors of my land, has been prepared after a full immersion weekend between courses of food photography, a bottle of red wine, a special friend and lots of confidences.
I'm back with a contest that I really care about: a contest linked to the "Gran Tour d'Italia in Veneto", an AIFB project.
We know very well, as the RISOTTO is a fundamental part of the economy of Veneto, and so our partner Erica has well thought of moving even more the Grand Tour with a contest on RISOTTI.
For this challenge I chose IL CARNAROLI: with its fine grains, which resist well during cooking, they are perfect for an excellent risotto.
Among the ingredients of my land I chose the top: TRUFFLE BLACK TRUFFLE, of which my lands are very rich, IL PECORINO DEI SIBILLINI, Slow Food presidium and an excellent smoked bacon.
Mine is a RISOTTO that releases the scents of my land, perfumes violated because of the last earthquakes, scents that only those born in these lands understand the hard work behind them. Mine is a risotto that praises the rebirth … my, and my land.
RISOTTO WITH TRUFFLE, PECORINO AND AROMATIC HERBS
INGREDIENTS:
400 g of Carnaroli rice,
2 liters of vegetable stock,
a bunch of sage,
extra virgin olive oil,
a glass of white wine,
a bunch of fresh marjoram
a bunch of fresh oregano,
a bunch of rosemary,
1 black truffle (about 30 g),
8 slices of smoked bacon,
200 g of seasoned pecorino cheese from the grated Sibillini.
METHOD :
In a pan heat a little oil with the fresh onion cut into thin slices and 4 sage leaves, add the rice and toast it for a couple of minutes, blend with a glass of white wine over a high heat and let it evaporate, add some broth hot until completely covered, cover with a lid. Add more hot stock and stir in the cooking process.
Pour 30 ml of extra-virgin olive oil into a container, add the remaining sage, rosemary, marjoram and oregano and with an immersion blender, chop well and keep aside.
Cut the truffle in half and from the central part cut into very thin slices that you will need for the garnish, then keep aside. Grate the remaining truffle.
About half cooked rice, add the mixture of ground herbs and grated truffle. Stir and continue cooking.
Cut the bacon into very thin slices, quickly scald them on both sides on a hot pan, so as to eliminate part of the fat and make it nice crisp. Keep aside.
At the end of cooking, turn off the heat and stir in the pecorino cheese with a fine ground of black pepper. Let stand for a few minutes and serve to remember to garnish with the slices of bacon cooked and slices of truffle.
With this recipe I participate in the Contest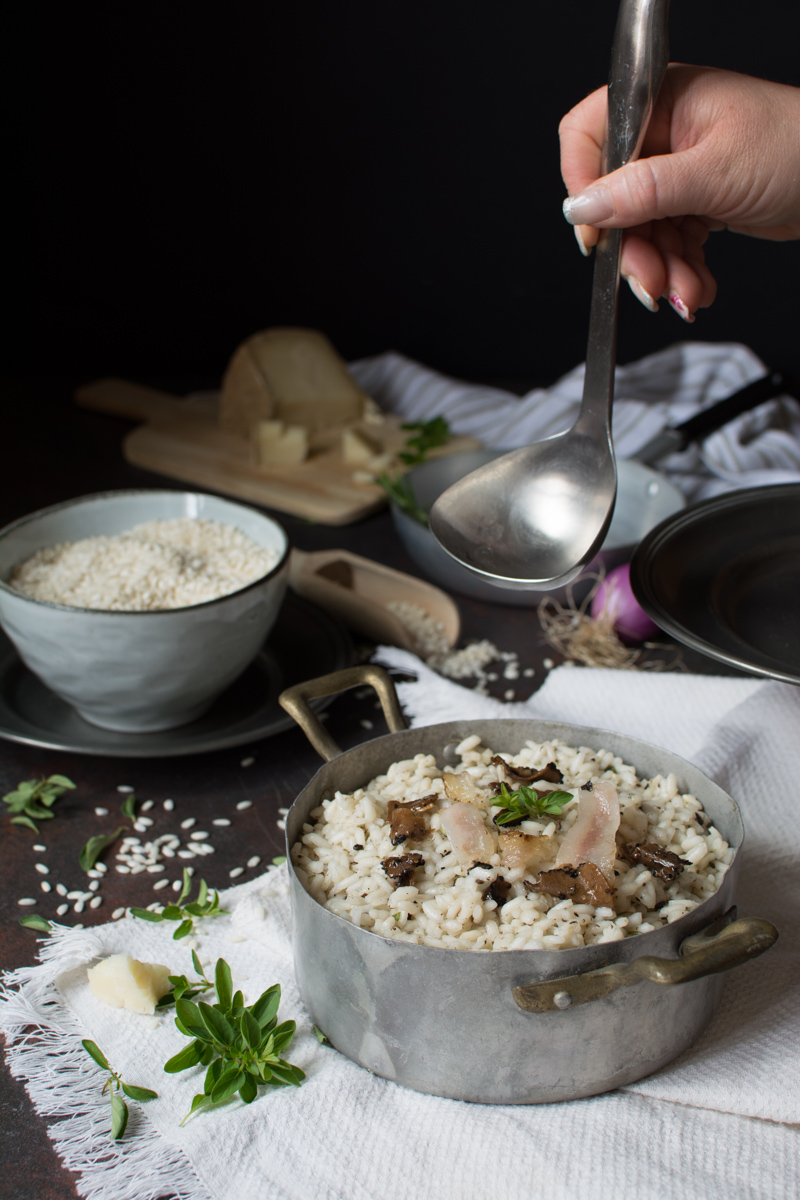 (Visited 112 times, 1 visits today)
Titolo
Nome Ricetta
RISOTTO WITH TRUFFLE, PECORINO AND AROMATIC HERBS
Pubblicato il
Tempo Preparazione
Tempo Cottura
Tempo Totale