ARANCINI MARCHIGIANI
I was a child, so much, and in one of the many carnivals spent at home because of the flu, I remember my mother who prepared me these delights: the ARANCINI MARCHIGIANI!
She never said what they were called, or maybe it was I who did not remember, but their taste had always remained impressed in my mind, one of those clear memories related to my childhood.
ARANCINI MARCHIGIANI were different from all the other desserts that usually prepared the mothers of my friends. On Thursday we were allowed to celebrate at school, we all contributed with a tray of sweets that we brought from home: frappe, castagnole, ravioli and I brought my ARANCINI!
Over the years my mother has stopped preparing them, then one day, flipping through her old recipe book, I find her ARANCINI MARCHIGIANI! I could not prepare them too ?! Especially because that citrus and melted sugar make these "swivels" irresistible!
ARANCINI MARCHIGIANI
INGREDIENTS:
650 g of flour "0",
50 g of butter,
200 ml of milk,
15 g of fresh brewer's yeast,
3 eggs,
a pinch of salt,
250 g of granulated sugar,
2 untreated oranges,
2 untreated lemons,
peanut oil for frying,
powdered sugar at will.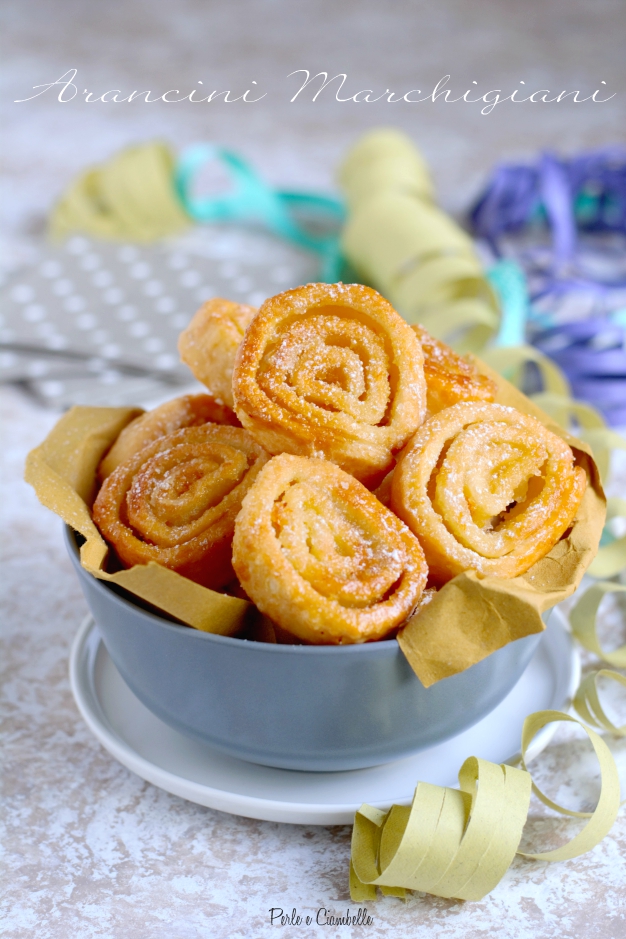 METHOD :
Heat the milk and melt the butter. Let cool slightly and add the crumbling yeast, stirring well until it melts completely.
Mix flour and eggs in the kneading machine, add the rind of 1 grated lemon, salt and pour the milk mixture flush, kneading at first slowly and then increasing the speed to make a smooth, soft and homogeneous mixture.
Let the dough rest in a lightly floured bowl and covered with a cloth. Let it rise for about 1 hour.
In a bowl, mix the sugar with the remaining lemon zest and the orange peel.
Take back the dough, divide it into two equal parts and roll out into two rectangles with a thickness of about 2 -3 mm.
Sprinkle the surface with the mix of flavored sugar and roll the dough on the longer side, lightly moisten with a little water the flap that will close the roll so that it adheres better and does not open during cooking.
Cut out several 1.5 cm thick washers and keep aside. Repeat in the same way with the other rectangle of puff.
Heat the oil and fry the arancini, taking care to turn them often during cooking. Drain and leave to dry on some straw paper.
Once cooled, sprinkle with icing sugar and serve!
(Visited 86 times, 1 visits today)
Titolo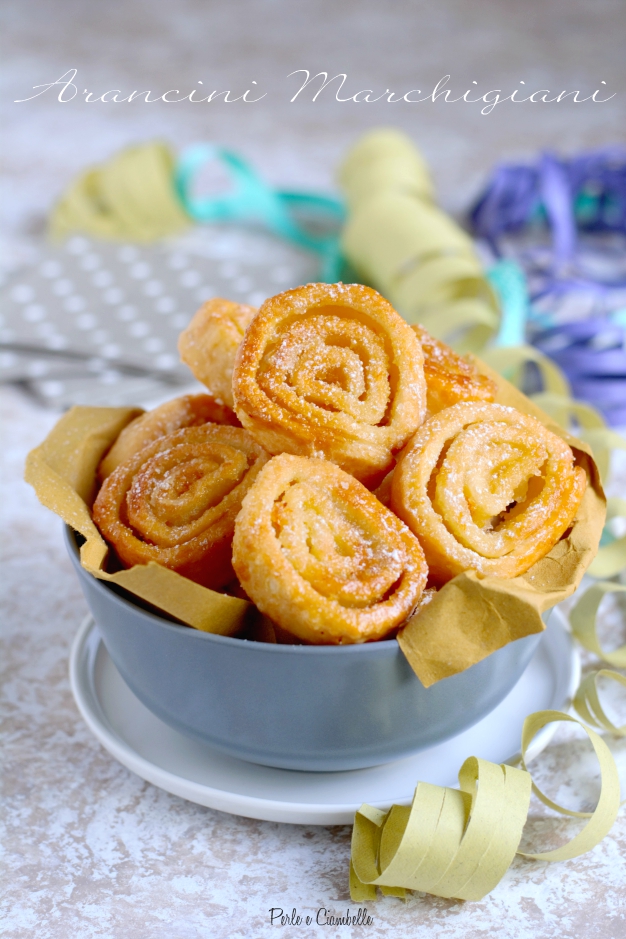 Nome Ricetta
Pubblicato il
Tempo Preparazione
Tempo Cottura
Tempo Totale